Esthechoc x London Fashion Week 2018
18.03.2018

For those who attended London Fashion Week, you may have seen and tried our award-winning vegan beauty chocolate, esthechoc. We asked esthechoc ambassador, music artist and model Elle L to share a few words on her experience of LFW AW18.
What did you get up to over Fashion Week?
Fashion Week is a beautiful blur... It was super busy and I had the pleasure of representing a couple of projects there. Esthechoc as official supplier and also Fashion For Conservation which I'm London ambassador for and we had a show at Freemasons Hall. I also was a guest on Hoxton FM in the Century Club 'into app' lounge.
What shows did you go to?
I loved Vin + Omi - 'We are not Sheep' which I went to with DJ friend Lara Fraser, we were supporting her DJ counter-partner Laura Pradelska who some people might also know from Game of Thrones. I went to the Paula Knorr and Sadie Williams presentation at the BFC. The Teatum Jones show was incredible - I really felt the production and the genuine change of dynamic plus the empowering nature of incorporating 25 empowering women into the concept. However my personal highlight was sitting front row a few seats away from the Queen and Anna Winter on FR for Richard Quinn.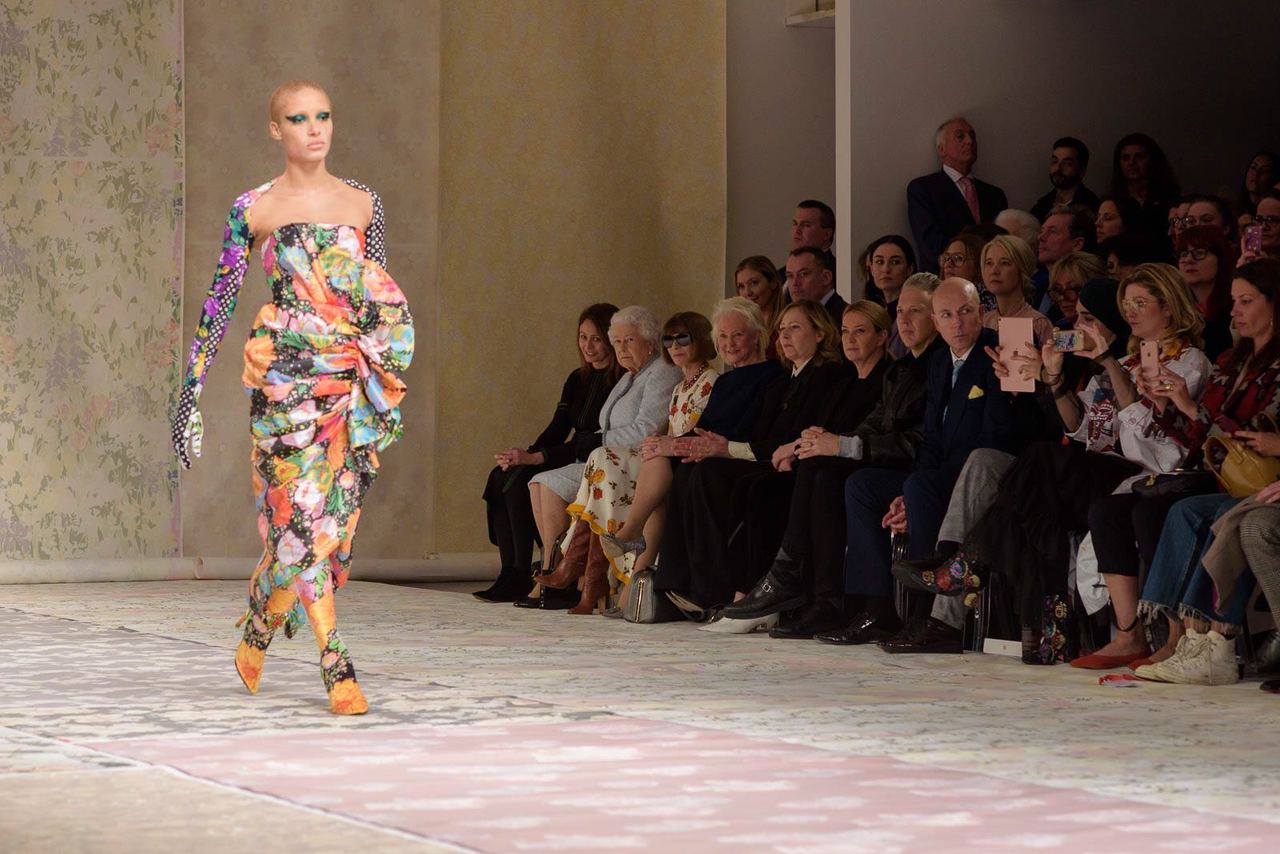 What was it like to sit front row with the Queen?
At first we didn't know the Queen would be there… I got a call from the BFC about an hour before asking me to be there early as it would be a very busy show. When it came to 3:45 I was about to leave the VIP lounge to go down and we were all sort of politely held up by Royal security and not allowed to leave. I was worried that I wouldn't make it and unsure what was going on but then there was a sort of a warm buzzy feeling flying around the place. Eventually it was announced that HRH would be walking past. Our official photographer took a little snap and then we were all rushed down to the runway. I was ushered in the madness onto front row and then I looked to my right just and there was Anna Wintour. She was soon greeted by the Queen and CEO of BFC, Caroline Rush. We were all in a gentle awe and swiftly took our seats to watch the show…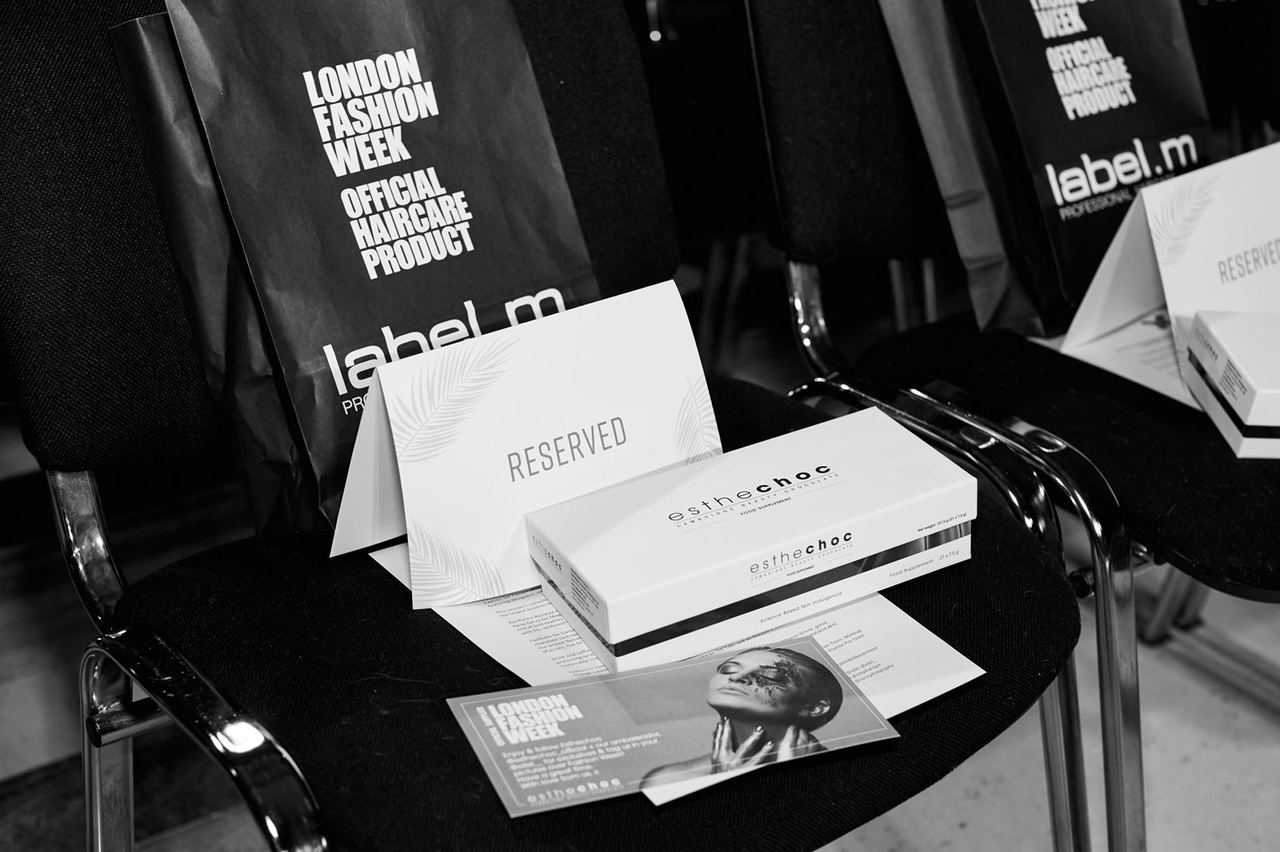 What did you think of the Richard Quinn show?
I was impressed. The floral mix of almost 60s wallflower into a modern and eclectic futuristic design is really cutting edge - and actually totally in line with what I'm into when I create music too… Mixing the best of vintage essences with really new and fresh feelings, tones and textures. I managed to capture some slo-mo which really brings out the prowess some of the pieces had on the runway. The flowing floral over-coats in metallic tinny textures really was powerful.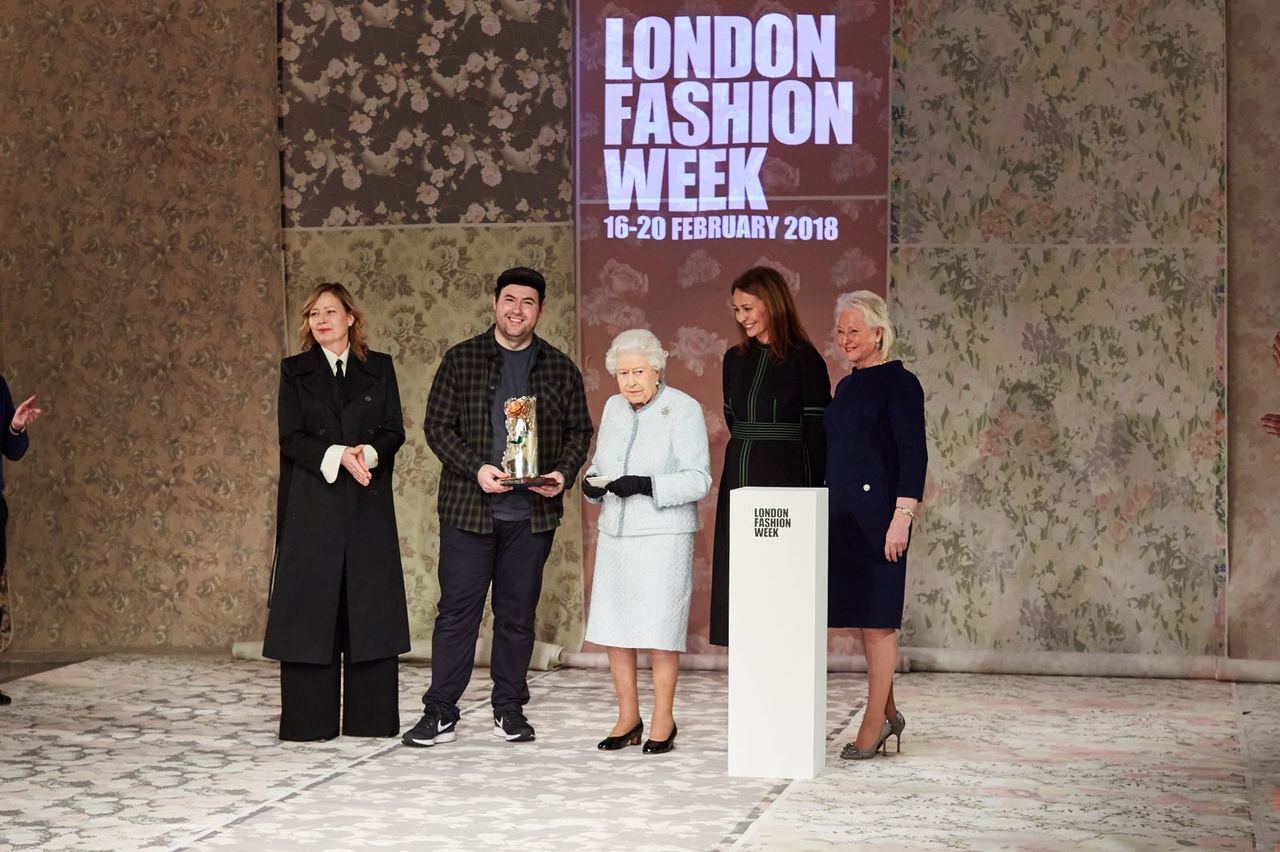 Did the Queen get to try esthechoc?
I'm sure she would love it! Especially as it's so intelligently made and delicious - as well as good for you! It's a dream product… I didn't actually see her try any as I think we were all in a glowy daze from her presence and the incredible new Queen II inaugural award to honour emerging talent in British Design, which is a really special and inspiring moment for the future of British Fashion and something I'm sure the British Fashion Council are incredibly proud to have made happen. I did see lots of people enjoying it over the course of the week though!
You're also involved with Fashion For Conservation, tell us a bit about this project…
Yes, I'm the London ambassador for Fashion For Conservation [FFC] and hosted a special press preview of our AW18 rainforest inspired collection in Knightsbridge with The United Nations, actress Miranda Richardson, FFC co-founder Ava Holmes and Stella McCartney's innovator of the year, CEO of Evrnu Stacey Flynn. It was a pretty special day as we had everyone from radio DJs, models, designers and music artist to the Leonardo DiCaprio Foundation and our partner Whitley Fund For Nature in attendance.
FFC focuses on shining a spotlight on Conservation through conscious-inspired Fashion projects. This season we produced a sustainable fashion show with celebrity stylist and our lead designer René Garza who showcased his collection RE:NE[W] for Magpies and Peacocks with us alongside Jatin Kalikas Armour at Fashion Scout, Freemasons Hall. We were supported by some incredible people, raised funds for rainforest conversation, Hoja Nueva and also connected new audiences. It's just the beginning of a year long campaign that will tour around the world. Of course everyone got a box of esthechoc! & they loved it. Especially as it's vegan and tastes so good!
FFC AW18 in British Vogue:
http://www.vogue.co.uk/brand/renew-by-rene-garza-for-magpies-peacocks
http://www.vogue.co.uk/shows/autumn-winter-2018-ready-to-wear/jatin-patel-for-kalikas-armour
Photos: Stoyanov And Jones Photography, Getty Images, Simon Armstrong
Buy esthechoc online